Scout C-Day
C-Day means "cookie day". Yeah!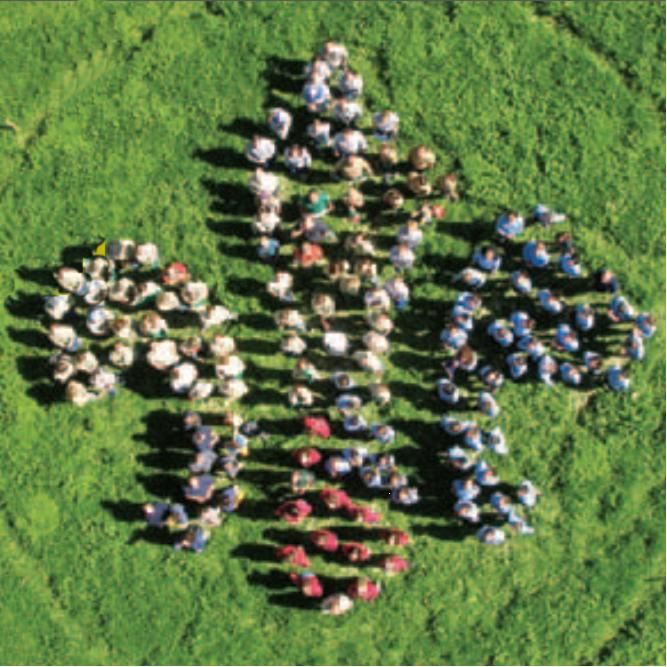 In almost all countries of the world, where scouts are active, there are seasonal activities scouts do to help themselves with fundraising. Doing something good for their communities, and getting money for that at the same time, and with that money they pay for their scout activities.
Sometimes, it is collecting "used up" Christmas trees from the homes, take them "old" trees to a collection place, where they will be months later fed into the famous Easter fires. For that service, scouts take a small donation. Also, in some places, they help collecting used clothes, which will be laters cleaned and fixed up by professional organizations like the Red Cross, and then shipped to people in need for clothes, like into very poor African Nations.
In other countries, scouts sell goodies, donated by good meaning people and companies, like UNICEF Christmas cards, or, something most important for good nutrition: COOKIES!
Camp Kawabata C-Day took place in the evening of a day kept totally secret for good reasons. Glossom and Phil, famous bakers in Bay City had worked for weeks, day and night, to get them ready: The Camp Kawabata Scout Cookie Boxes. This secret evening, Chris, Flo, Zeico and Santi travelled by public bus to bakery, to pick them cookie boxes up. But there were two surprises: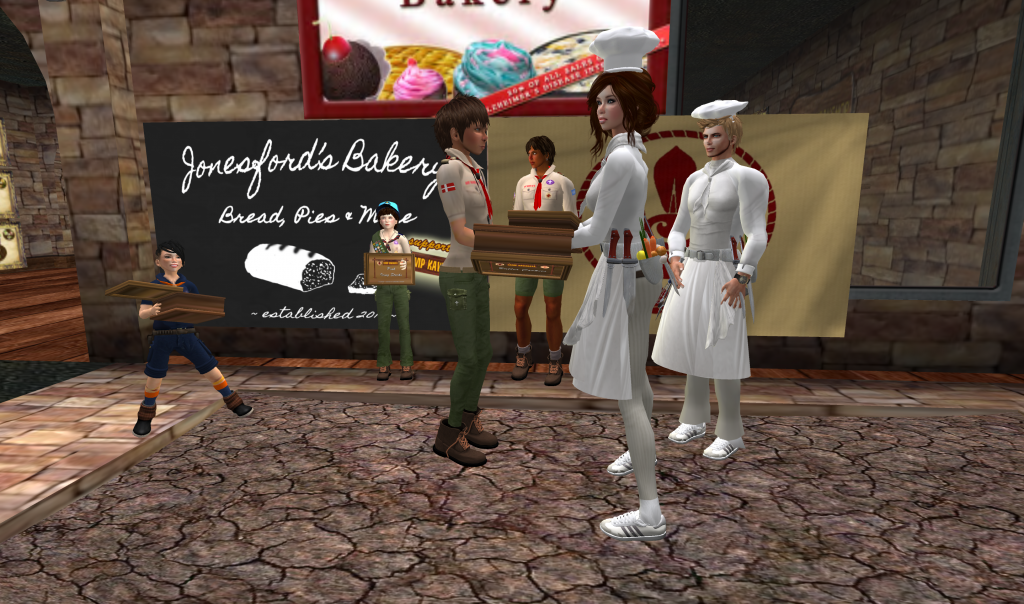 Number 1: the ingredients of them cookies took us all by surprise. After "offering" various ideas of applying Chinese torture, Glossom eventually "volunteered" to share the main ingredient she uses for good food: the "l-stuff", meaning, cooking with love. Thus, the first boxes of cookies were tested immediatly, and found Zeico in hospital laters having his stomach pumped out, because he could not refrain from eating all of them test cookies right away –all 5 flavours, 25 cookies each, mind!
Surprise number 2: That was, that we not got only a few dozens of them boxes as we had expected, but no, there were piled up like 1000 of them in the storage hall of the bakery.
Now, that gave us scouts real headaches. But, surprise surprise, scout friends from Russia offered to use their connections, and those people who not want to be mentioned sent Big Truck, and got the 1000 cookie boxes safely shipped to Camp Kawabata Trading Post. We not asked, how they could smuggle such valuable merchandise through the various custom check points of the world.
Well, they just managed to do it, and for the last few miles, the Russian Cookie Truck was even helped by local, state, and federal police, so that the valuable fright would safely arrive in Camp Kawabata.
And now, everybody can safely buy them cookie boxes at the trading post in Scout Camp.
http://maps.secondlife.com/secondlife/Camp%20Kawabata/172/83/25
There is a vendor there, and one can get 5 different flavors. Each box contains 25 cookies, is transferable, and costs 100 Lindens. Bought from vendor, the money is transfered without any commission or so from the baker to the scout camp Sim owner.
The scout cookie boxes make super gifts for friends and family, also. And each box sold means some money earned to help with costs of running Camp Kawabata. Thanks to the bakers Glossom and Phil for this generous donation. And, as it is with scouts, the "rest", we must get done ourselves. "Allzeit bereit" = "be prepared". Right?
Also, you can get the boxes from Santi (Santiboy Resident) directly, who you can also ask for any additional information concerning cookie sales you might seek.
Gut Pfad!
Santi
(Santiboy Resident)
((P.S.: I am still looking for scouts and "customers" who would like to roleplay a sequence of selling them boxes at the door of a private home in SL – contact me pls if interested – that would make the story "complete" ))