Hairy Hippo Fun Land is great place to take the family and Chris took the group there to partake in the Hippo Food Challenge. The idea of the food challenge is to try some regular fair food like blue cotton candy as well as some more acquired tastes like berry dipped bananas and pickles on a stick while avoiding trips to the bathroom. If you get sick you need to get to the washrooms as soon as possible otherwise there might big mess! We started off with simple things like yellow lollipops but had to chow down on the biggest burger on the pier, the Hungry Hippo Burger!
Our presence in Bay City was noticed by the Bay City Port Authority who landed their helicopter right on the dock to see what were were up to, and we were greeted by some street performers from Bay City. There was a lot of action and people dropping by it was easy to forget the challenge! Those that finished the challenge weren't disappointed with the special prize, a transparent balloon with mini hippos inside. Some of the kids and family also partook in the rope climb and strength testing which awarded prizes too!
Ready for the challenge at Hairy Hippo Fun Land!
\
Our first stop, the candy store and lollipops!
Hungry Hippo Burger!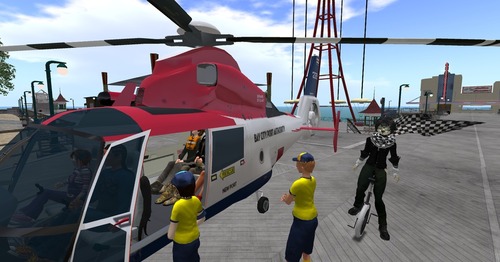 Bay City Port Authority and Street Performers
Prizes, and waiting by the restrooms.